Easy evaluation means fast growth
QualityDesk's quality assurance features allow you to assess activities, customer interactions, issues or processes.
In conversations with customers, the reluctance of team leaders to make evaluations often comes up. Calls are listened to, but not to the extent that they should. Why? Simply because they find it cumbersome due to inappropriate tools and fragmented information, that makes it impossible to track quality development.
QualityDesk brings the quality assurance process together in one place, making quality assessment easy and hassle-free. You can create as many evaluation forms as you need with full control over them. For example, you can create assessment forms for evaluating sales and customer service situations. With QualityDesk, completing evaluations is quick and easy, and you can return to a saved evaluation at any time.
With our unique self-assessment forms, you give your team a simple and quick way to practice well-structured self-assessment that makes an impact. When employees can see their own progress, internal motivation increases. Thanks to real-time reporting, team leaders, supervisors, and managers always have an up-to-date view of quality, regardless of time and place.
You can also create monitoring targets to track your evaluation work at a more granular level. For example, you can define that for each completed evaluation form, a contact method or evaluation method is included. This allows you to compare, for example, how the results change when the assessment is done from a recording vs. a side-by-side evaluation.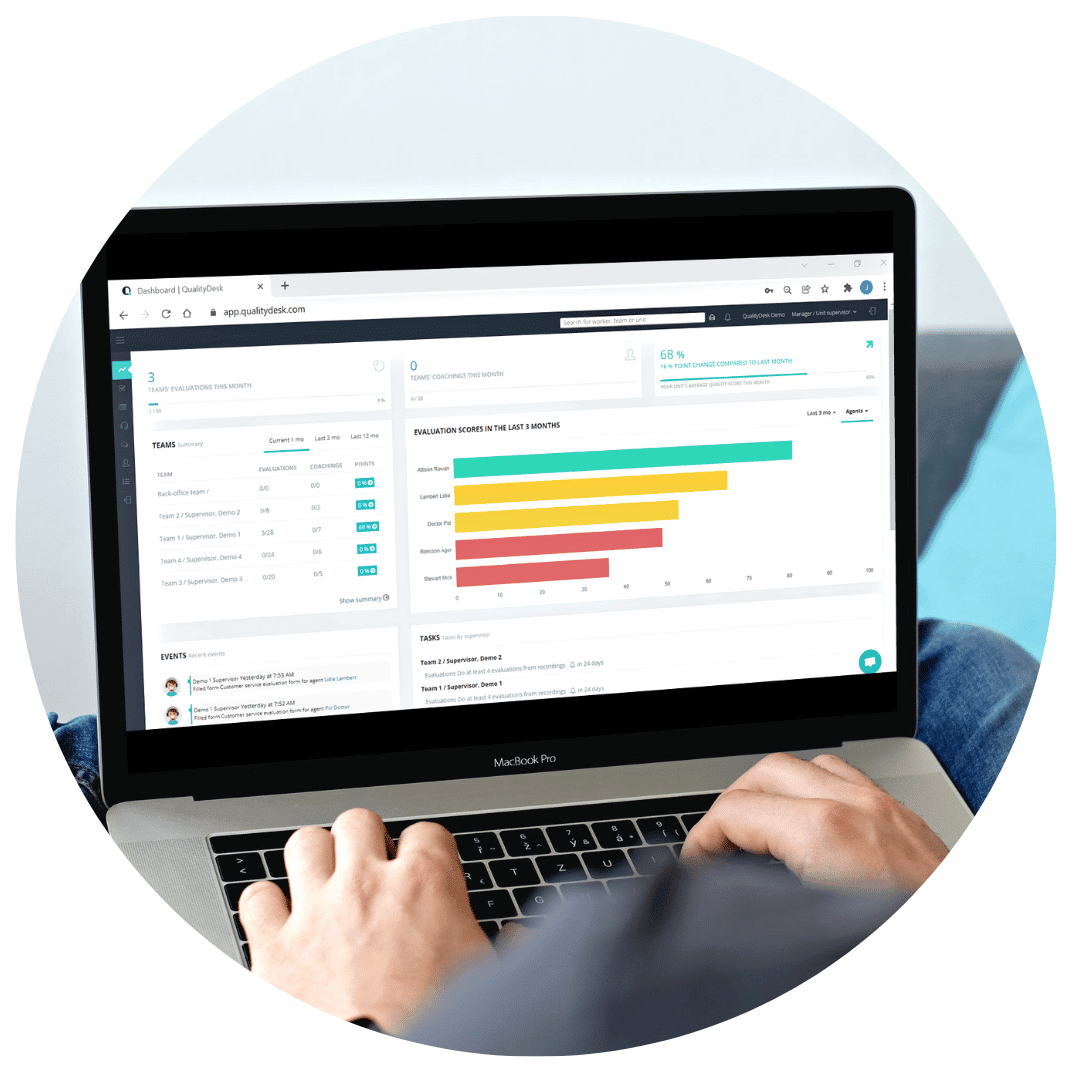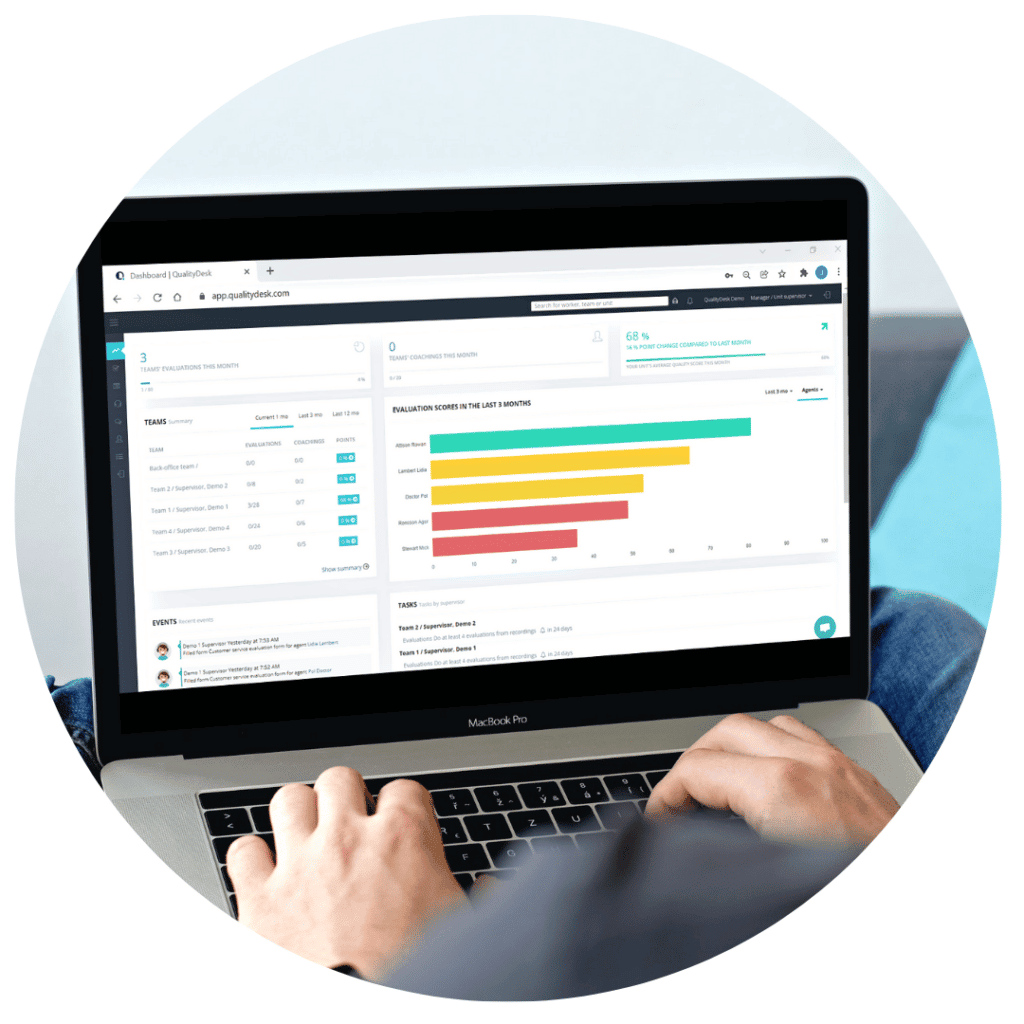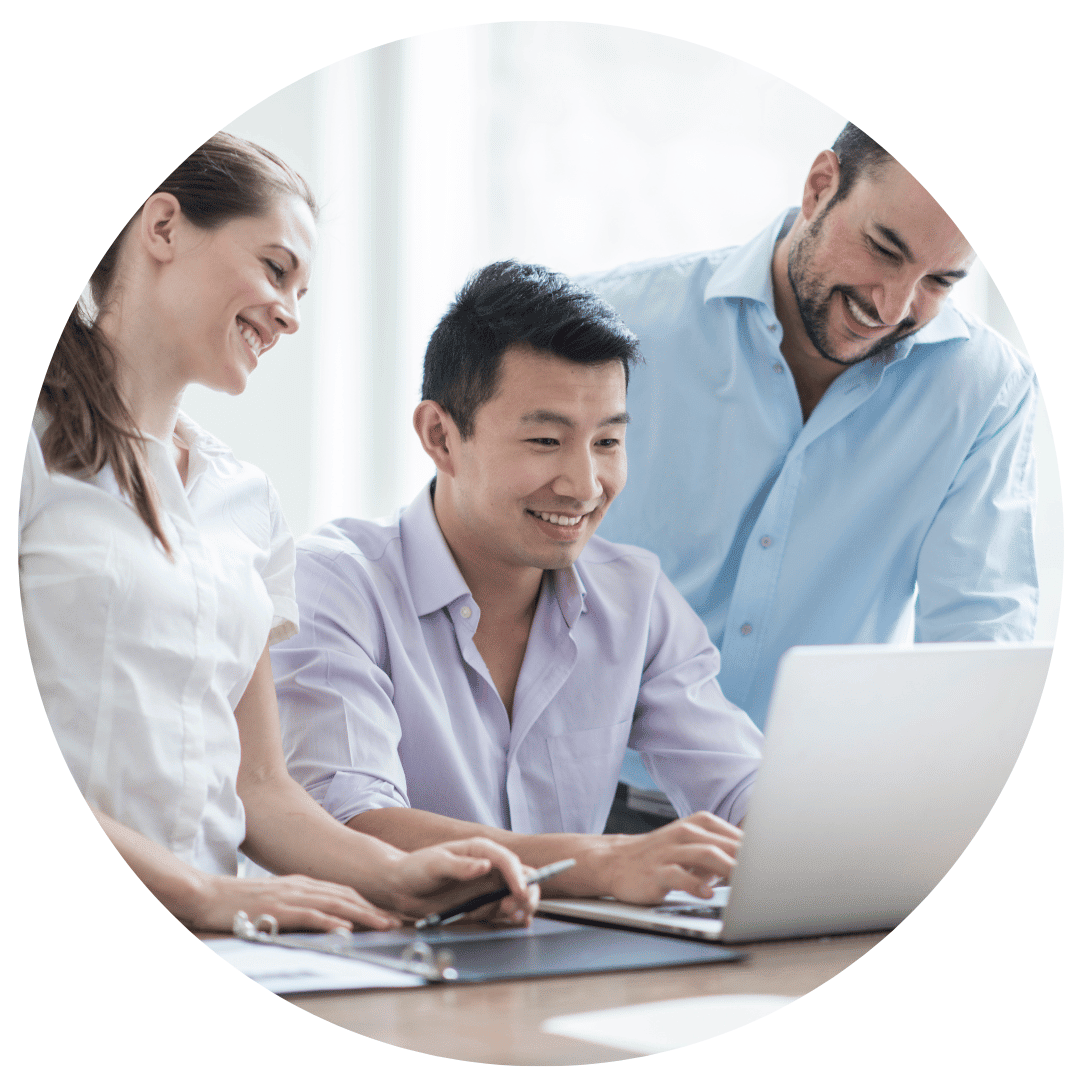 QualityDesk's evaluation features include:
Dashboards
Scorecard builder
Side-by-side evaluation
Recordings evaluation
Colleague evaluation
Supervisor evaluation
Agent self-evaluation
Notifications to each way
Agent logins and real-time view
Real-time form monitoring for supervisors and employees
Creation of monitoring targets
Full control over evaluation forms (creation, edition, removal)
Systematic quality assurance with QualityDesk has contributed to our customers' results by improving service quality and customer experience, increasing sales, and improving compliance. Also, the use of evaluation forms in orientation is proven to be effective, as our customers have successfully reduced the time it takes to train a new employee by 50%.
Moreover, after consistently using the self-evaluation feature, our clients have reported a 30 percentage-point growth in add-on sales within two months. The feature helps agents to focus and helps them to improve independently their development targets.
Book your free demo today, and embark on a journey towards more satisfied customers and a happier team!