Visualize the development of your personnel!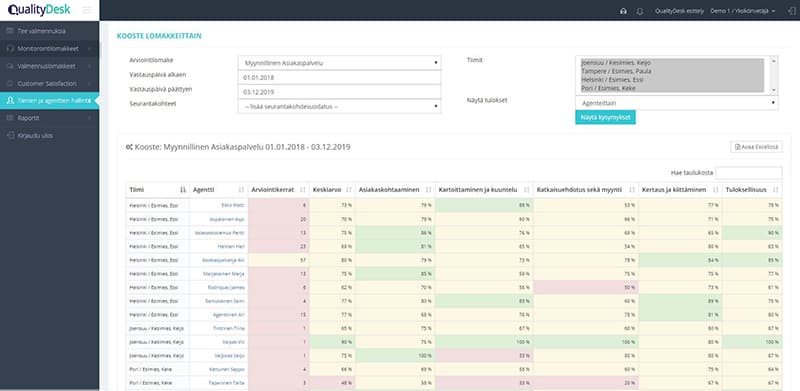 QualityDesk's reporting is fully automated, real-time and, if you so choose, transparent. All completed evaluations can be reviewed later by the supervisor and, if you allow this option, by the employees.
A development graph will be created for each employee that makes it easier to visualize their progress. The application also keeps track of all recorded feedback as well as any agreed areas for improvement. This makes it much easier for a new supervisor to join a team and get up to date on their team's expertise.
The supervisors also get to see the results of their work immediately. They will no longer need to wait for a monthly report on the quality improvement work they have done, and, most importantly, no one needs to spend time working on those reports.
What are the concrete benefits for your organization? Here are some of the benefits as described by our customers
Automatic reporting eliminates the need to create manual reports.
The realization of your HR strategy can finally be monitored in a simple way and in real time.
Customer service increased their add-on sales by 30 percentage points in two months once it was possible to monitor in real time whether the agents asked the customer about the purchase and add-on sales.
Monitoring the employees' activities has made the supervisors' work easier. Monitoring what the employees are doing instead of focusing on the results has turned out to be a fast way of achieving performance targets.
We will gladly help you with any questions you might have regarding the software, customer service or sales. Get in touch with us today and let us show you how we can be of service.